👋 Hi dev,

How are you this week? It's Wednesday again, and in the middle of the week, I am here with more posts to share with you.

⚡️The top 6 animation libraries in React Native
In a mobile app, animations have an impact on user experience in terms of interactions and engagement. Animations can quickly become one of the key factors that users love engaging with on your mobile app.
Check out a list of animation libraries for React Native and Expo apps that are open source and provide advance use cases.

⚡️How to create custom wavy headers using react-native-svg and Expo
In this post, we'll learn how to use react-native-svg in React Native and Expo apps and create some custom headers using SVG patterns.

⚡️How to integrate Material UI library in React apps
In this post, let us take a look at how to integrate Material UI library that is available as an npm module and consists of built React components that you can use to build apps. You are going to learn from scratch on how to install and configure this library as well as build a small demo React app.

That's it for this week.
👨‍💻 Happy coding!
---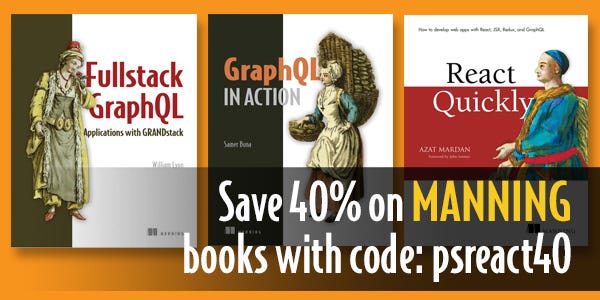 Manning publications are are offering 40% off on their latest JavaScript and GraphQL ebooks. This discount is exclusive to all readers of this newsletter. Make sure to enter code psreact40 before checking out.

Here is the link to the store.

---
I am available on Twitter
For more posts on React Native, check the blog here.